A new research project has begun which aims to understand how and why a deadly tick-borne disease is spreading in forest ecosystems in India. This cross-disciplinary £600,000 project brings together experts from multiple agencies in India and is being led by scientists from the Centre for Ecology & Hydrology (CEH).
The project, funded by a Medical Research Council (MRC) Foundation Award from the £1.5bn Global Challenges Research Fund, takes a One Health approach to understanding disease risk.
Focusing on the potentially fatal Kyasanur Forest Disease (KFD), this project links expertise between CEH and India in Public Health (the National Institute for Traditional Medicine, Karnataka Government Department of Health and Family Welfare Services and the National Institute of Epidemiology), Animal Health (the National Institute of Veterinary Epidemiology and Disease Informatics), wildlife and forest ecology, human behaviour and priorities and Earth Observation (the Ashoka Trust for Research in Ecology and the Environment). The geographical focus of the study will be the Western Ghats, a region of immense significance for both biological diversity and human livelihoods in India. 
Dr Bethan Purse of the Centre for Ecology & Hydrology and the lead investigator said, "Around 30 million people in India live within degraded forests and rely upon them for food, fuel and livestock fodder.
"However, forest use increases exposure of humans and livestock to pathogens that cycle naturally in wildlife and arthropod vectors in intact forests. Forest communities are not only more vulnerable to infection but also to disease impacts because they are more remote from health centres and professionals.
"Globally upsurges in many zoonotic diseases, including ebola, malaria and Leishmaniasis have been linked to deforestation or human uses of forests. Since we don't understand the ecological and social factors that underpin these changes, such disease problems are difficult to manage and predict."
KFD is a tick-borne viral haemorrhagic disease, also known as monkey fever, which can be fatal to humans and other primates and which first emerged in degraded forest ecosystems in India in 1957. Since 2012, this disease has spread to new districts and states within India, and human cases have increased significantly, with around 500 disease cases each year. At least 340 people have died from the disease in the last five years with the mortality rate currently between 10 to 30 percent of those infected. Poor forest communities are most affected, including tribal forest-dwellers who harvest products such as honey, as well as plantation workers and marginal farmers who collect wood-fuel and graze their animals in forests. Although KFD is managed through vaccination, lack of awareness about the disease and poor vaccine uptake can exacerbate epidemics.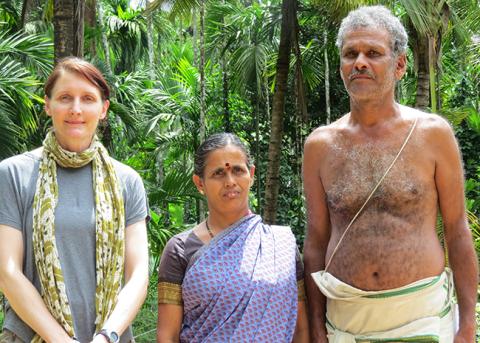 KFD risk factors
KFD risk is thought to be higher in fragmented forests. The disease first appeared when forests were cleared for mining, road building and agriculture in the 1950s, but we lack data on the ecology and socio-ecology of the system to test this hypothesis and identify risk areas. Many tick, wild rodent, bird and primate species are thought to have a potential role in KFD transmission. But crucially it is not known how these species are linked to forest types, and which ones are key in transmitting the disease to people as forests become more fragmented. Similarly, work is urgently needed to understand how the specific activities of local communities in the forest increase their risk of contracting KFD, and whether and how such activities could be avoided without harming their health and livelihoods.
This will be the first study to study and disentangle these ecological and social risk factors for KFD at the same time, with the aim of predicting where, when and during which activities, local communities are most at risk of contracting KFD. The resulting decision support tool, co-created between scientists and public health, animal health and forestry managers, will improve targeting of risk communication, vaccination and other protection measures towards high risk local communities, reducing health impacts of KFD across the region.
Dr S L Hoti, the lead investigator in India, said, "There is an urgent need to address disease emergence in a unified inter-disciplinary manner and develop a decision-support tool that reduced the health, welfare and livelihood impacts of KFD. This methodology and tool can be extended to other vector-borne zoonotic diseases too."
The award won by CEH and the Indian partners is one of 41 Foundation Awards led by the MRC and supported by the Arts and Humanities Research Council, the Biotechnology and Biological Sciences Research Council, the Economic and Social Research Council and the Natural Environment Research Council.